Market update
Cointree Crypto Market Update - August 19th 2020

Market update for traders
Jump to the beginner's version
In the week that was, Bitcoin attempted one last push at $17,000 AUD, but it proved a bridge too far, dropping over 6% in the last 48 hours to sit at $15,966 at the time of writing.
The channel we have been following since July finally broke to the downside and price action pierced the 50EMA on the 4hr. Bitcoin's heavy correlation to gold seems to have had a major effect here, as gold fell over 8% overnight on news that Russia has trialled a vaccine for COVID-19 and bitcoin fell in similar manner, but overall is holding up better.
Bitcoin is known for its pullbacks in an uptrending market, and on higher time frames, this price action is printing another higher-low. In the grand scheme, this is likely just another dip before the next leg up until confirmation otherwise. For now, previously strong resistance at $16,000 (purple line) is acting as support on the downside, if it fails, bears may look to move price down to the 200 EMA in the low $14,000's. So far though, buyers have stepped in here and Bulls will look to reclaim the channel indicated in the charts and push again for $17,000 otherwise we can expect sideways chop into next week.
In another big week, some major Alt-coins made major moves...Chainlink, again, was the big gainer, up 38%, while Tezos was up 23%, and Iota up 19%.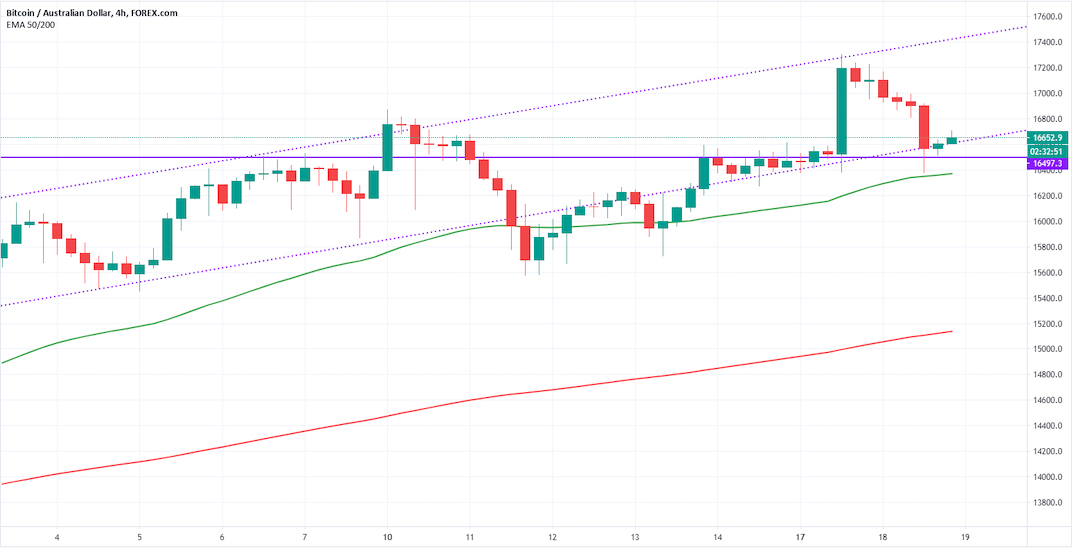 Market update for beginners
In the week that was, Bitcoin took out the key level of $17,000 AUD and reached as high as $17,400. In the last 24 hours Bitcoin has fallen nearly 5%, and back into the mid $16,000's after a small rally.
The uptrending channel we've been watching has sensationally held a last minute Bitcoin dump from $17,400. Key moving averages have provided additional support to the cryptocurrency as it looked to wipe out it's most recent surge.
Key Takeaway: As we so often note, Bitcoin is a volatile asset and pullbacks in bullish market environments are to be expected. The big positive here is that this 5% drop was quickly bought up and the market is still trending upwards.
Buyers will look to enter here for a fresh move up. If the price can hold above $17,400, then we can expect a test of $18,000. Sellers again saw a false dawn overnight, failing to press price down more than 5% and fighting buyers all the way back up to previous support. For lower prices look for $16,500 to break with conviction.
In another big week, some major Alt-coins made major moves...Tron was the big winner, up 45%, while Chainlink was up 26%, and Litecoin up 22% over 7-days.