Market update
Cointree Crypto Market Update - September 8th 2021

Market report for traders
Market Recap
Cyber hornets are buying $30 of bitcoin to support El Salvador
It's official. Bitcoin is now legal tender. To celebrate the historic moment, bitcoiners are showing solidarity with El Salvador by buying $30 of bitcoin, the same amount of bitcoin their government is giving to every citizen. As Australia's a day ahead on the calendar, some Aussies have begun buying $30 of bitcoin today.
However, this support couldn't stop a temporary AU$13.5k correction as more than AU$3.6 billion worth of leveraged long positions were liquidated. Ironically, this worked out well for El Salvador. Their president tweeted he was "Buying the dip."
Twitter to add bitcoin and Ethereum addresses
Leaked screenshots suggest that Twitter is going to allow users to add bitcoin and Ethereum addresses to their profile as part of their Tip Jar feature, a way for users to support their favourite content creators.\ \ The news came as the Ethereum network experienced its first negative daily issuance since EIP-1559 was introduced, meaning more ETH was burned than created. This deflationary monetary policy is likely to push prices higher over the long term.
Technician's Take
Strong Sell-Off Bounces Quickly, Will BTC Hold?
Today we saw a rather sharp sell-off of bitcoin (BTC), before a decent bounce. Bitcoin touched its 30 day low around AU$59k and then bounced to close around AU$64k. While a sudden drop is always a shock, one must put it in perspective. The current price was seen on the opening just a week ago.
This will be an interesting time to watch what happens next. There is a decent possibility of a little panic selling if past reactions are anything to go by. This can provide a nice trading opportunity for the chart readers out there.
Of great interest for myself is what will happen as we start hitting some technically bullish signals, like the 50 day Moving Average crossing the 200 day Moving Average. Will it bring in some more buyers? Time will tell!
As always, volatility can bring opportunity, but highlights the need for proper money and risk management.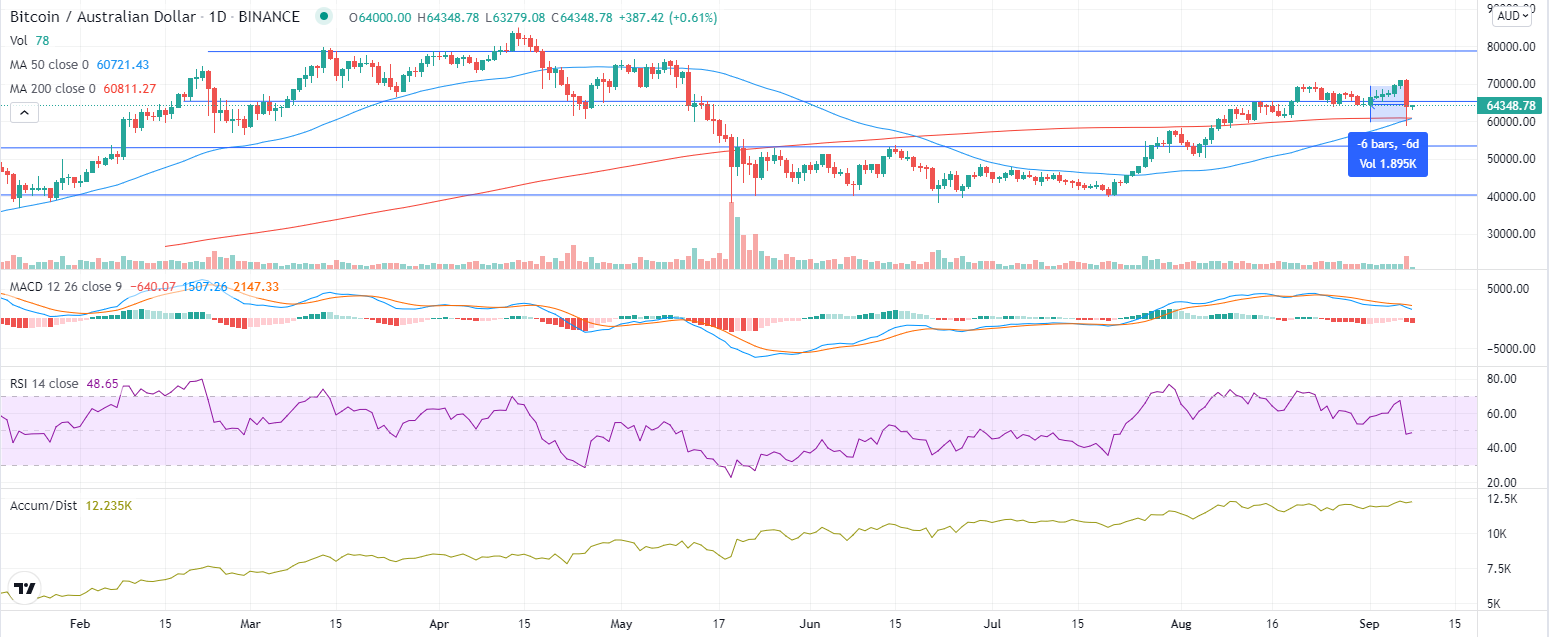 Beginners recap:
Strong sell down, but bitcoin (BTC) still closed on its 7 day low. It can be all about perspective.
Volatility may bring trading opportunities, but make sure you stick to your trading plan, ensuring you adhere to your risk and money management plan.
Disclaimer: Information provided is for educational purposes and does not constitute financial product advice. You should obtain independent advice from an Australian financial services licensee before making any financial decisions.