Market update
Cointree Crypto Market Update - August 25th 2021

Market report for traders
Market Recap
Are nations competing to lead Bitcoin's mining industry?
Recent filings from the SEC reveal that the world's largest asset manager, BlackRock, has invested hundreds of millions of dollars into bitcoin mining companies. They've also been joined by the fourth largest global asset manager, Fidelity, investing in Bitcoin mining company, Marathon Digital Holdings. Notably, BlackRock and Fidelity are two of the most influential institutions in US politics.
Once again, these institutions are lagging behind the innovators. The Canadian Bitcoin focused company Blockstream has raised AU$289 million to fund an expansion into manufacturing Bitcoin mining chips, also acquiring the intellectual property and key employees of an Israeli Bitcoin mining hardware manufacturer.
It seems that while China has cracked down on Bitcoin mining, Western nations are competing to lead the Bitcoin mining industry.
Technician's Take
Bitcoin has broken AU$65k resistance and testing AU$70k
For those of you who've been following the Technician's Take, you probably have noticed that the support and resistance lines I've drawn on my charts haven't changed much recently (except for slightly higher lines as bitcoin (BTC) started its most recent bull run).
The initial rejection of the AU$65k last week saw a brief retrace, before another crack and initial rejection, then finally breaking through with a solid 6% increase. With the price now looking like it will test AU$65k again, it will be interesting to see if we see another solid move upwards when it does.
We're also seeing the 200 day Moving Average (200 day MA) and the 50 day MA converge. If this trend continues and we see the 50 day MA cross the 200 day MA, it will signal that a strong bullish move is imminent and should trigger more buying action. While moving averages are probably one of the most simple indicators around, many traders still use them to identify and confirm trends.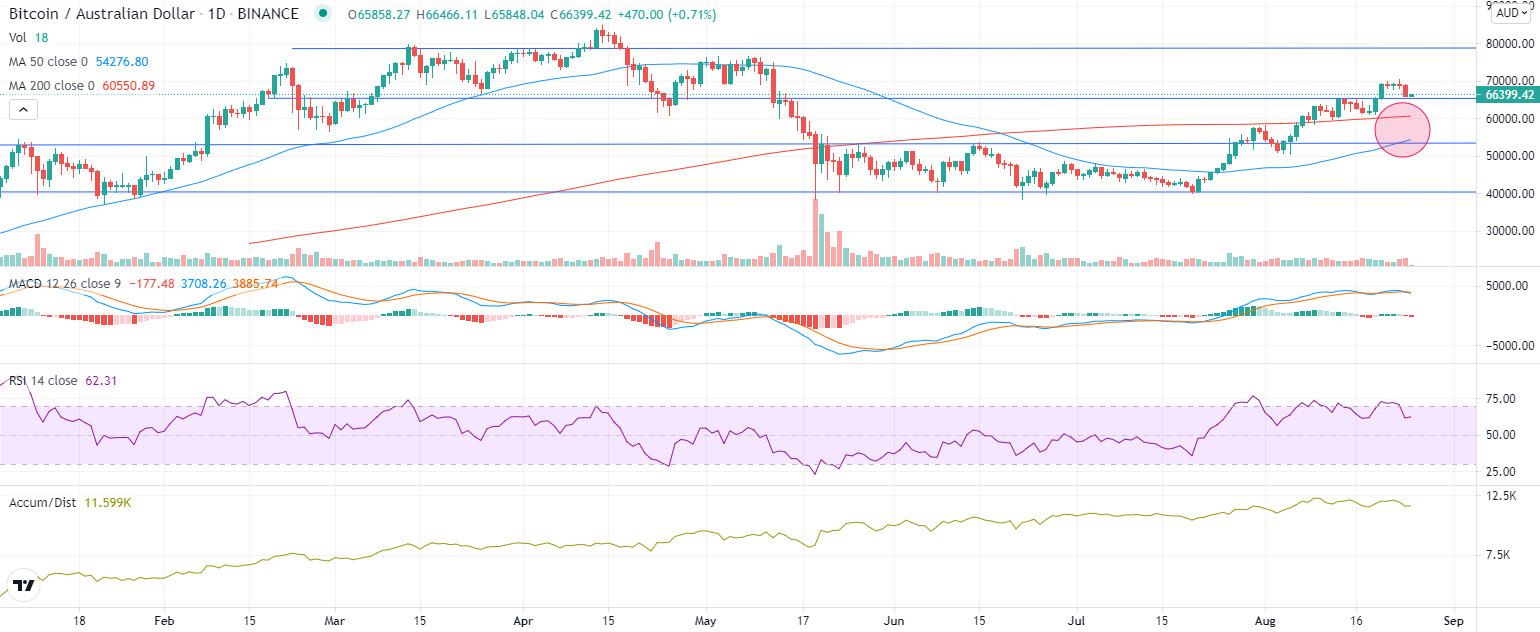 Beginners recap:
Bitcoin (BTC) continues higher and breaks the AU$65k resistance.
200 and 50 day Moving Averages converging, a cross of these should signal a bullish move and we may see an increase in buying if this happens.
Disclaimer: Information provided is for educational purposes and does not constitute financial product advice. You should obtain independent advice from an Australian financial services licensee before making any financial decisions.