Market update
Cointree Crypto Market Update - August 18th 2021

Market report for traders
Market Recap
How is the political class treating bitcoin?
Despite lobbying from the crypto industry, the US Senate passed a trillion-dollar infrastructure bill with a provision that classifies crypto developers and miners as brokers for tax purposes. Could this slow the crypto industry in the US?
While it seems the market shrugged off this news with the top coins rising by 50-100% over the past month, it's clear that the political class is no longer ignoring cryptocurrency. With the crypto space now valued at over AU$2.7 trillion, this was inevitable.
Many politicians are supportive of bitcoin. Argentina, a country infamous for runaway inflation, is open to adopting bitcoin as a currency. President Alberto Fernandez recently said, "The advantage is that the inflationary effect is largely nullified."
Beyond bitcoin, TikTok could help crypto overtake Big Tech
Audius is a music streaming service like SoundCloud or Spotify, but is completely decentralised. Built on both the Ethereum and Solana blockchains, they have now partnered with TikTok — giving them a direct link to over a billion users. This could be the most significant adoption of blockchain technology beyond bitcoin.
Dogecoin Foundation Resurrected With Vitalik Buterin as Adviser.
The Dogecoin Foundation was first launched in 2014, but dissolved as interest in the cryptocurrency waned. With Dogecoin's resurgence, the foundation has been relaunched. Its advisors include Ethereum's Vitalik Buterin, the head of Elon Musk's family office, Jared Birchall, and core developer, Max Keller.
Technician's Take
Bitcoin rejects support level, still looking bullish.
Bitcoin (BTC) has continued its uptrend this week after it rejected the AU$65K support level mentioned last week (depicted on the chart below). The Moving Average Convergence Divergence (MACD) has made a bearish crossover, with the Relative Strength Index (RSI) moving lower.
BTC is still above the 200 day Moving Average (MA), which is a positive sign. I'll be watching for another push towards resistance or a break of the 200 day MA, which could see BTC retrace to the AU$53K support line.
From a technical point of view, where to from here? While there are plenty of opinions out there about long term moves, the recent moves most definitely indicate that we will continue this bullish run. While there have been three red days in a row, those three days haven't even given back all the profit from the single day's increase on August the 13th.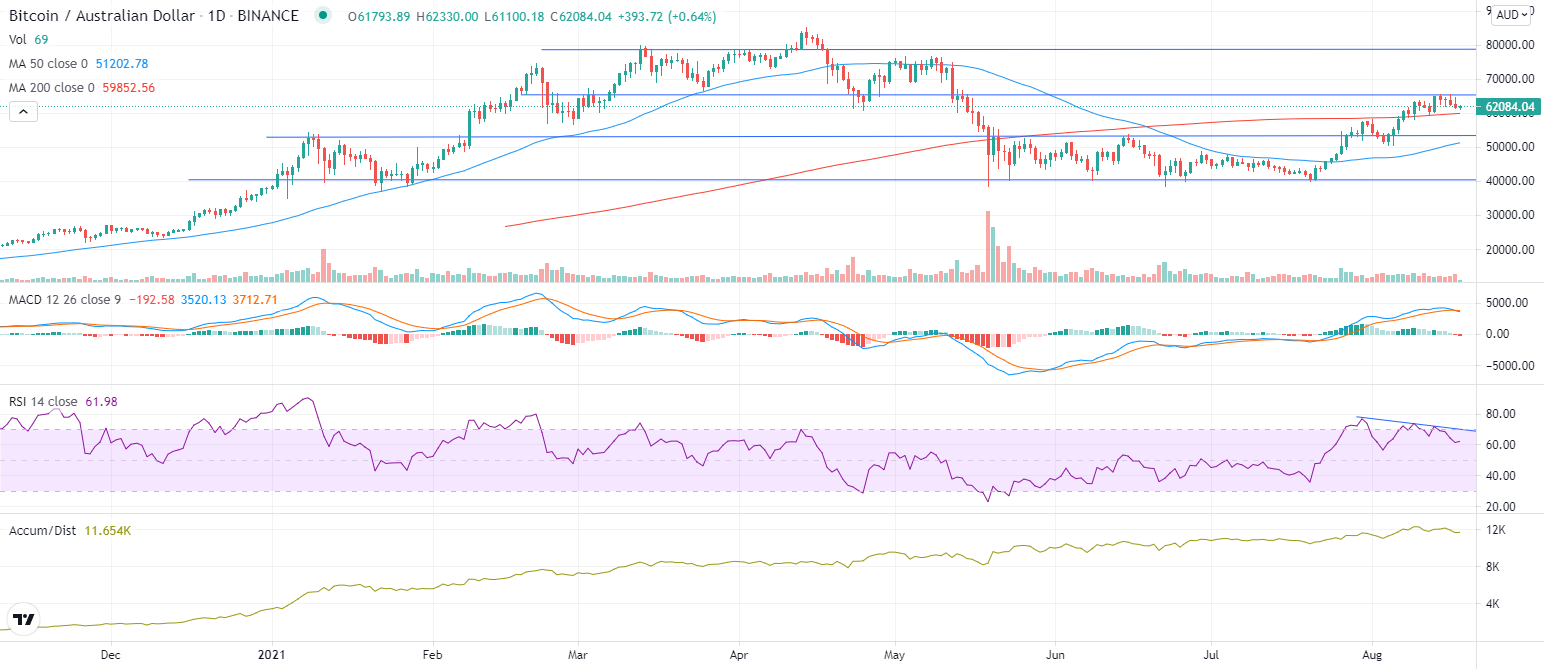 Beginners recap:
Bitcoin (BTC) continues over 200 day Moving Average
Price rejected at resistance level of AU$65K
Moving Average Convergence Divergence (MACD) has made a bearish crossover
Disclaimer: Information provided is for educational purposes and does not constitute financial product advice. You should obtain independent advice from an Australian financial services licensee before making any financial decisions.