Beginner Series
How to Pay Your Bills With Cryptocurrency in Australia

It's easy to pay your bills with crypto on Cointree. All you need is the biller information and you can make a payment in minutes. Now, your crypto is much more than an investment; it's something you can use in your everyday life. This year, usage of Cointree's bill pay feature has more than doubled. 
"I've hardly used fiat for the last 18 months, using a credit card as an interim solution for day-to-day expenses, and then using Cointree's crypto Billpay feature to pay my credit card, mortgage, and various other bills," says a Cointree customer. "It started off as an exercise to promote blockchain as a use-case and has since become my primary payment, which I like because I'd like to live as decentralised as possible," he says. 
In this article, we go through the seven simple steps to pay your bills with crypto. But first, let's see why more and more Australians are paying their bills with crypto. 
Why pay your bills with crypto?
1. Store your wealth in appreciating assets
Over the past decade, cryptocurrency has produced an annualised return of over 150%. Instead of storing their money in a bank account, more and more Australians are choosing to store their wealth in crypto. 
2. It's quicker and easier
Instead of having to sell your crypto and transfer your money back to your bank account to then pay your bills, you can simply pay your bills with crypto straight from your Cointree account. It's quick and easy. 
3. Use any digital currency, not just bitcoin
You can pay your bills using any cryptocurrency on our exchange, not just bitcoin. You can pay with Ethereum, Solana, USDC, Avalanche, Dogecoin and 100s of other digital currencies. 
4. Pay any bill, from your phone bill to credit card bill
BPAY is offered by tens of thousands of businesses across Australia, so you can pay many types of bills, from your phone bill to your credit card bill. 
Types of bills you can pay on Cointree include:
Phone and internet
Electricity and Gas
Water
Council rates
Rent
Credit card
Insurance
5. Live a more crypto focused life
Many crypto enthusiasts choose to spend their crypto in the real world to drive adoption further and help grow decentralised cryptocurrency networks like Bitcoin and Ethereum. The more that people use their crypto in the real world, the more it will drive adoption and strengthen the crypto economy. 
Many of our customers are incredibly passionate about blockchain technologies like Bitcoin and Ethereum. As people say in crypto, they come to get rich but stay for the revolution.
How to pay your BPAY bills with Cointree
You can pay your BPAY bills with Cointree in seven simple steps.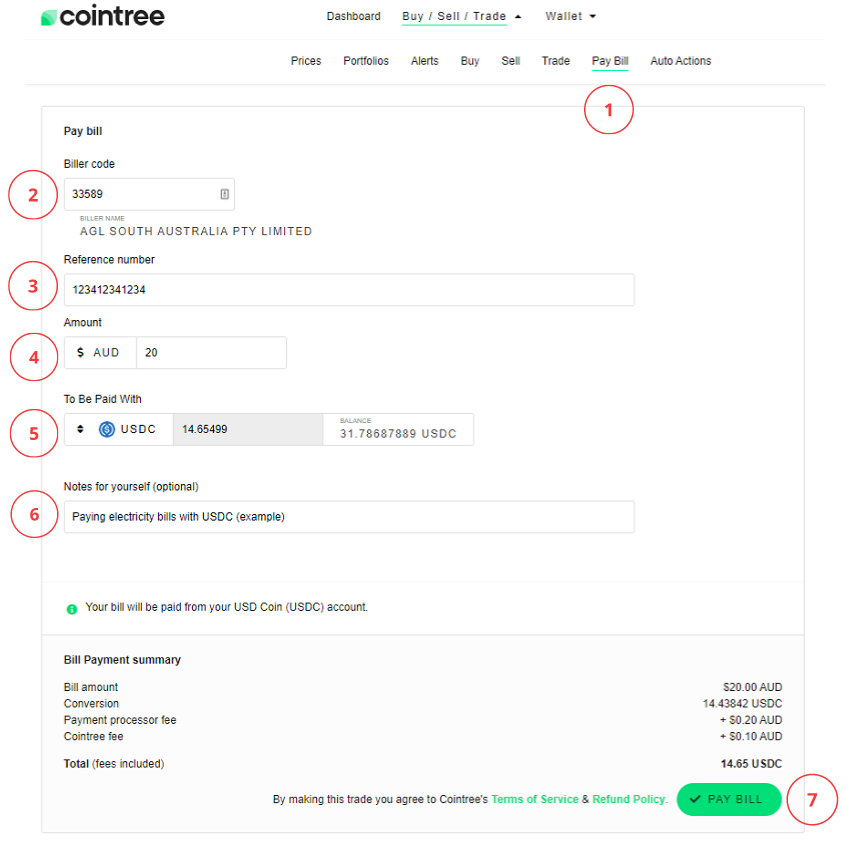 1. Click on the pay bills feature
BPAY is an easy and secure way to pay your bills and you can access it straight from your Cointree account. Simply click on the pay bills feature to start. 
2. Enter the biller code
The biller code corresponds to the company you're paying, which should appear below the box when you enter the correct code. In the example above, the payment is for the energy company AGL. As you can see, their name appears once the biller code is entered. 
3. Enter the reference number
Check the Customer Reference Number (CRN) on your bill and enter it in the space provided. 
4. Enter the amount you will pay in AUD 
Enter the amount you will pay in Australian dollars. Even though you'll be paying with cryptocurrency, you must still enter the amount in AUD.
5. Select the cryptocurrency you will use to make the payment
You can pay with any cryptocurrency listed on our exchange, including bitcoin, Ethereum, Dogecoin, Solana, and USDC. 
6. Leave a note in the transaction (optional)
You can leave a note in the transaction if you'd like to include any more information about the transaction. This note is only for yourself and won't be shared with anyone else. 
7. Confirm the bill payment
Check all of the details are correct and confirm your bill payment. Payments are usually received in 1-2 business days.
Get started right now
International adoption of cryptocurrency as payment
The growth of bitcoin as a payment method is hardly an Australian-only phenomenon. AMC Theatres in the US recently announced that moviegoers will be able to pay for movie tickets and popcorn with bitcoin by the end of the year. They now join the ranks of Microsoft, PayPal, Subway and Wikipedia who are accepting bitcoin as payment. 
Across the Atlantic, the leading opposition party in Spain, Partido Popular (PP), has introduced a bill that would allow for the payment of mortgages with cryptocurrencies. Along with homeowners paying their mortgage, the bill would allow institutional funds to use cryptocurrencies to invest in mortgage pools. Of course, the most famous international example of bitcoin adoption is in El Salvador. 
Send crypto internationally with bitcoin
El Salvador was the first nation state to adopt bitcoin as legal tender. It all began in 2019 with a project known as 'Bitcoin Beach', where the small tourist town of El Zonte began accepting bitcoin as a payment method. The success of the project encouraged El Salvadorian President Nayib Bukele to adopt bitcoin as legal tender across the nation. 
While 'Bitcoin Beach' makes a great story, there was likely a more pragmatic motivation. With remittance payments accounting for 23% of the nation's GDP, the deciding factor was surely bitcoin's faster and cheaper payment network. Thanks to the Lightning Network, it costs almost nothing to send bitcoin internationally.
Bitcoin's Lightning Network makes it easy to pay for anything with BTC
The Lightning Network is a Layer 2 protocol for scaling the Bitcoin network with fast, cheap, and private transactions. So named because it processes transactions at the speed of light, it's designed to compete with payment networks like Visa. 
The number of bitcoins held on the Lightning Network has more than tripled from 1,053 to 3,300 since the start of the year. Not only will the exponential network growth drive adoption of bitcoin as a payment method across countries like Australia, it will effectively give billions of people in developing nations their first bank account. El Salvador is only the beginning.
In the past decade, bitcoin has grown to become digital gold. If this exponential growth of the Lightning Network continues over the next decade, along with payment channels from the likes of Square and Cointree, bitcoin could grow to become a global currency that's used for everything from paying your mortgage to buying a cup of coffee.